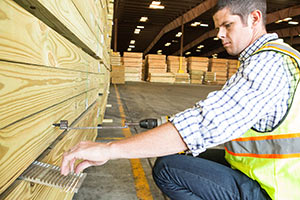 Timber Products Inspection, Inc. (TP) and its laboratories are accredited by the International Accreditation Service (IAS) and American Lumber Standard Committee (ALSC). TP's accreditations include inspection services for both preservative treated and fire retardant treated products. As the largest independent agency for treated material, TP represents the majority of all treated wood manufacturing facilities nationwide.
A TP Subscriber's personnel and facilities are initially certified and continually monitored by TP's field representatives who conduct monthly, unannounced inspections to ensure compliance. These inspections are conducted in accordance with the applicable industry standards (e.g., American Wood Protection Association [AWPA] or International Code Council Evaluation Service [ICC-ES]) and demonstrate conformance of the facility's qualified products. These qualified products can be identified by the TP Quality Mark which is typically found on an ink stamp or a plastic end tag.
In addition, TP can also perform lot inspections of specific material on as needed basis. A certificate is then issued confirming conformance of the material to the applicable standard(s). TP can also monitor facilities and conduct lot inspections in accordance with the Western Wood Preserver's Institute (WWPI) Best Management Practices (BMPs).
TP performs inspections for all major fire-retardant treated products, including qualifying inspections and routine monitoring inspections.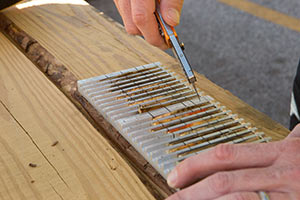 TP offers many other services that complement our treated wood inspection services, including:
Performance of client-designed audit programs (e.g., packaging audits, water repellant usage audits)
Quality control training
Plant QC process evaluation and instrument calibration