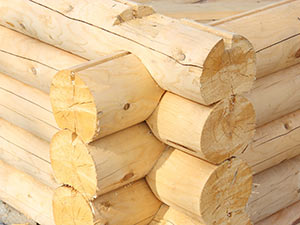 In the mid 1970's, Timber Products Inspection was approached by members of the log home industry and related regulatory groups and asked to increase our scope of auditing services to cover grading needs for building logs for both residential and commercial uses. We answered that need and now provide a nationwide grading and grade stamping program to log home manufacturers. Our grading rules and related design values are based on the nationally recognized standard ASTM D3957 (Standard methods for Establishing Stress Grades for Structural Members Used in Log Buildings). A long time industry leader, TP's log grading program is accepted by the International Code Council (ICC) and the US Department of Housing and Urban Development.
TP also offers these value added services:
Lot or individual home inspection grading services for homeowners, builders, or manufacturers with smaller production levels.
Engineering services which provide TP's in-house structural design expertise to homeowners, builders, and manufacturers.